Retargeting
What is Retargeting?
There are plenty of times when we have been browsing for services online and, for some reason or another, we become distracted and end up moving onto a more pressing matter, rather than initiating the service we are looking for. We might be looking for a chiropractor, and then we cut our search short in order to head out to an appointment. For us, this is no big deal. On the other end, as a business owner, this is a big way to miss out on a lead.
Retargeting was developed to remind that viewer that your website still exists, and your service is still available. If you're the chiropractor in the example, retargeting will remind that distracted visitor that their back still hurts and you're available to help after their attention has been pulled away to serve some other purpose.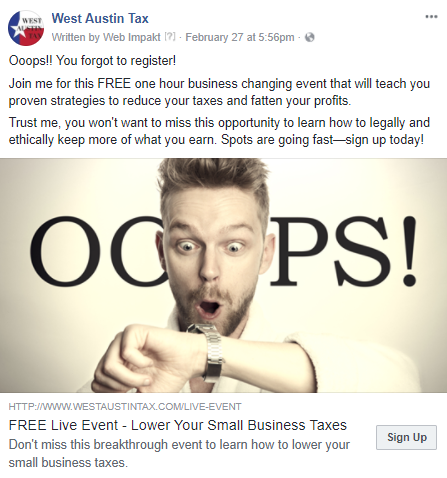 How Does It Work?
Retargeting works thanks to very small files called cookies being deposited in a potential customer's device when they've visited your website. They're harmless, small pieces of data that move from your website to a user's computer.
Because of cookies, you have the opportunity to learn a little more about the browsing behaviors of your customers. While you are not able to gain any personal information from them, cookies give you enough reach to where ads from your website can show up when your customer is browsing websites that have ads on their pages.
While the page that your potential customer is browsing loads, retargeting strategies can call one of YOUR ads for your services onto the page. While your customer is browsing lasagna recipes on a blog of their choice, they see your ad on the page and remember that they're still in need of your services.
Our Retargeting Services Cover:
Developing Frequency
There's an art to "just right" retargeting. We can help you ensure that your ads are being retargeted to your audience at a frequency that won't leave them annoyed. Nobody likes to be flooded with ads when they're browsing, and this course of action can leave your potential customers at odds with your business because they feel invaded. The key is to develop a frequency that poses as a gentle reminder that your business is available.
Establishing Your Reach
We want to make sure that your ads reach your audience anywhere they go. For example, if a potential customer visits a certain news outlet and sees your ad, it might be isolated, as the viewer rarely visits that outlet. Your reach should span out to websites that your potential customers use frequently. Think bigger networks and popular websites. Your ads need to reach your targets in multiple places, and that's where we can help.
Optimizing Conversion Funnel
We can help you test out different ads to develop an optimized set that draws in the greatest audience. If you have ten different ad designs, they can be tested to determine which of them are more successful at drawing in an audience. They can be narrowed down to where your best ads show up to retarget your customers to your business, getting rid of what doesn't work and developing what does.
Targeting an Audience
While it would be great to have your ads seen by everyone that even touches an internet-enabled device, it's in your best interest to target the right audience. You want your retargeting campaigns to bring people who already have some familiarity with your business back to it after they've become distracted from the services you're offering.
We are fully equipped to educate you about retargeting campaigns and develop them to suit your individual needs. From targeting your ideal audience to developing a frequency, we can help you bring back viewers who have strayed and transform them into customers.